Single Tooth Dental Implant – Savannah, GA
Replacing An Entire Tooth For Superior Results
Tooth loss can occur for many different reasons, including injuries, heredity, poor oral hygiene, gum disease, and more. It's no wonder that millions of people have lost a tooth along the way! Unfortunately, however, this not only leads to multiple oral health problems but can also affect your self-confidence. Restoring your smile with dental implants in Savannah can prevent these issues and help you enjoy great dental health for life. Contact us today to schedule a consultation with Dr. Fana and find out how an implant can help you!
Single Tooth Replacement Options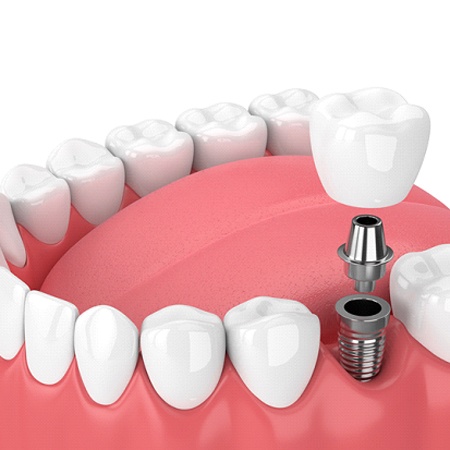 When it comes to restoring your smile, it's always helpful to have choices. After you've learned about the basic differences between the two options below, Dr. Fana can review the pros and cons of each and answer any questions during your consultation. With that said, one of the most important distinctions between them is that an implant replaces an entire tooth (root and crown), while a bridge only replaces the crown.
Dental bridge – A fixed dental bridge is a non-removable replacement that includes a prosthetic crown that's attached or "bridged" to two healthy teeth on either side (these teeth must also be fitted with crowns as well). Dental bridges often last 10-15 years and require good oral hygiene habits and regular checkups to stay strong and healthy.
A single dental implant – This straightforward option replaces the root of a missing tooth with a surgical-grade titanium post that is then completed with a single dental crown. The implant surgery typically takes 1-2 hours, after which the implant takes several months to fuse with the surrounding jawbone before the crown can be custom-made and attached.
The Benefits of Implant-Supported Single Tooth Replacement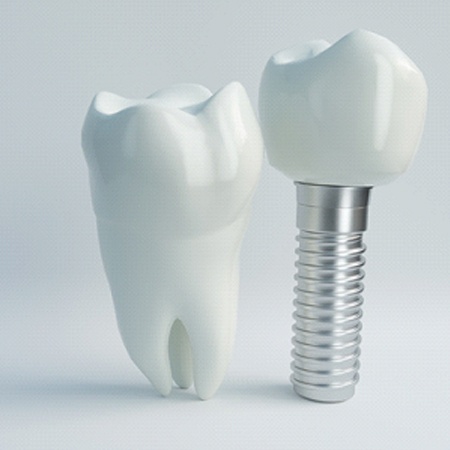 As a dentist in Savannah, Dr. Fana often recommends an implant for single tooth replacement because it will look and feel so natural. But there are many additional benefits as well:
Doesn't affect healthy teeth – With an implant, the two healthy adjacent teeth won't need to be ground down to accommodate dental crowns like they would with a bridge.
Maintains your facial structure – Implants preserve the size and shape of your jawbone, which helps you avoid the aged, sunken appearance that would otherwise occur after tooth loss.
Permanent solution – Implants are considered a permanent solution because they can last 30 years or more.
Unmatched chewing strength – Since implants replace missing roots, they mimic natural teeth and give you dramatically better chewing strength so you can eat a wider variety of foods.
Improved self-confidence – The importance of self-confidence can't be overstated. An implant looks and feels so great that you won't have to worry about other people knowing you've lost a tooth.
If you're missing just one tooth and would like to find out more, give us a call to schedule a consultation!