Emergency Dentistry – Savannah, GA
Fast Relief Right When You Need It
Dental emergencies always catch people by surprise. Nobody really expects one to happen, but taking the right actions right away can be the difference between saving or losing a tooth. Do you have a plan in case you or a loved one sustains a serious dental injury or your child develops a bad toothache? If not, we're happy to give you one: call Compass Dental. We're more than happy to accept emergency patients, and we can even schedule same-day appointments so we can help patients get the relief they need right away.
Why Choose Compass Dental for Emergency Dentistry?
Dentist with decades of experience & advanced training
Dental Office filled with the latest dental technology
Ready to accept & maximize all PPO dental insurance plans
How to Handle Common Dental Emergencies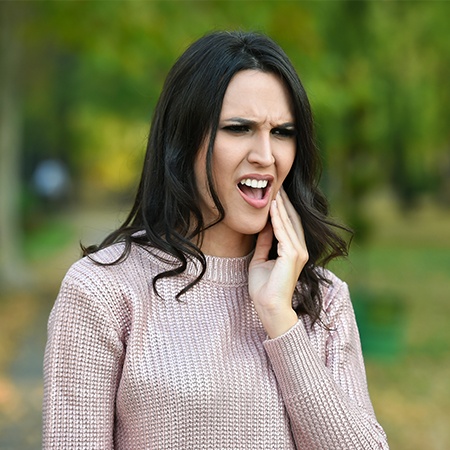 A dental emergency can occur in the blink of an eye, like with a broken or knocked out tooth, or take months to develop, such as with a toothache. In either case, seeking out professional care as soon as possible is the best way to stop any pain and limit damage to the smile. After you give our team a call to schedule an appointment, here are a few actions you can take before you're able to reach our dental office:
Toothaches
Is something stuck between the teeth? Try rinsing and flossing around the hurting tooth. If this doesn't help, an OTC medication or cold compress placed against the face can help manage any discomfort. In severe cases, the best way to get relief may be with a root canal, which, fortunately, is nothing like what you've heard about in the media.
Chipped/Broken Tooth
Rinse the mouth with warm water, and try to recover as many pieces of the tooth that you can, putting them in a safe container. To prevent the remaining tooth from scratching the inside of the mouth, cover any rough edge with a piece of sugarless gum or some dental wax.
Knocked-Out Tooth
Time is very important in this situation as we can only replant a fully dislodged tooth within an hour or so of the initial accident. After finding the tooth, give it a quick rinse, avoid touching the root, and try to place it back into its socket. Otherwise, it should be stored in a container either with milk or saltwater. The key is to come see us as quickly as possible!
Lost Filling/Crown
Even though a lost filling/crown shouldn't be a major cause of alarm, it's still a good idea to come see us right away so we can repair the tooth and prevent it from developing any additional decay/damage. Recover the restoration, rinse off any debris, and try to place it back onto the tooth. Avoid chewing with it until we're able to see you.
How to Prevent Dental Emergencies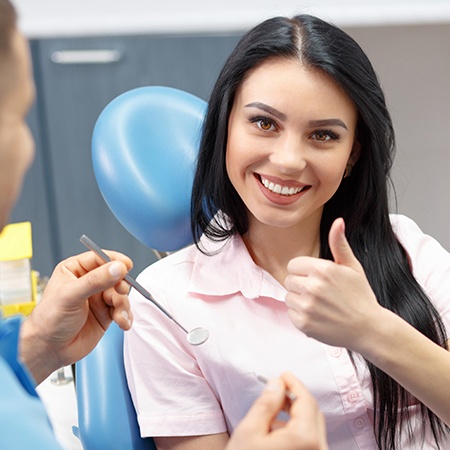 Wear a mouthguard every time you place sports—up to 40% of ALL dental injuries are sports-related!
Don't chew on extremely hard items like ice, pens, pencils, or fingernails. These can wear down and even crack your teeth.
Having trouble opening a package? Before using your teeth, go grab the scissors instead!
Brushing, flossing, and getting regular dental checkups are some of the best ways to stop small problems that could morph into big emergencies later.
The Cost of Treating Dental Emergencies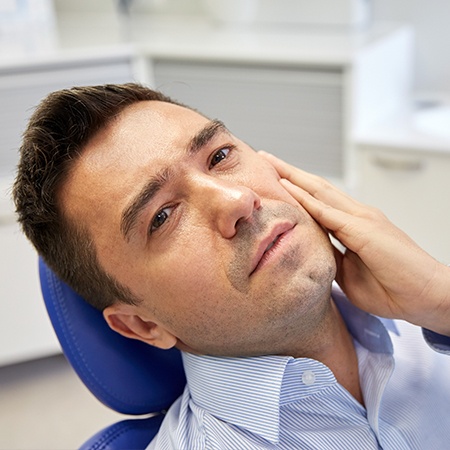 Because there are so many different types and severities of dental emergencies, there is no fixed price for urgent dental care. One patient might just need a filling while another might require a tooth to be removed and replaced. Whatever the case may be, our goal is always to relieve a patient's pain before addressing any damage to the smile. To help patients dealing with an unexpected dental expense, we're happy to accept PPO dental insurance, offer flexible financing, and we even have our own dental wellness plan.