Dental Implants – Savannah, GA
Not Your Average Tooth Replacement
With dental implants, Dr. Fana doesn't just replace missing teeth, he can basically give a patient their real teeth back. Implants resemble natural dental structure in almost every way, being more lifelike, stable, and durable compared to any other treatment option. Dr. Fana has years of experience using implants to rebuild people's smiles, so if you're ready to have a full and healthy set of teeth again, he's ready to give it to you. To learn more about this treatment and what it could do for you, give us a call today.
Why Choose Compass Dental for Dental Implants?
Dentist with years of dedicated training in implant dentistry
Partnered with the best local periodontists & oral surgeons
Beautiful Dental office filled with state-of-the-art technology
Benefits of Dental Implants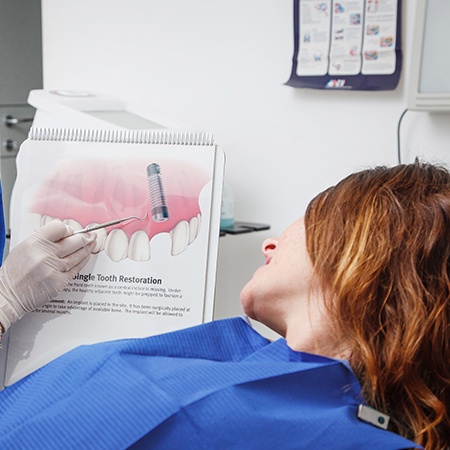 The way dental implants work is very straightforward, but it is still a huge leap forward in dentistry. Instead of just replacing the crown of a tooth, a small titanium post is placed into the jawbone to support a new restoration just like a root. This approach offers several unique benefits:
Stability: Because implants are anchored within strong jawbone, patients never have to worry about their new teeth slipping no matter what they are eating.
Appearance: Implants don't require any metal or acrylic attachments to keep them in place. They sit within the gum line just like real teeth and are topped with porcelain restorations, meaning they completely blend with the rest of the smile.
Bone Preservation: Dental implants are the only treatment that has been shown to stop and even reverse the bone loss that is common after tooth loss.
Reliable: With minimal maintenance, a dental implant can be trusted to last for decades on end.
Indications for Dental Implants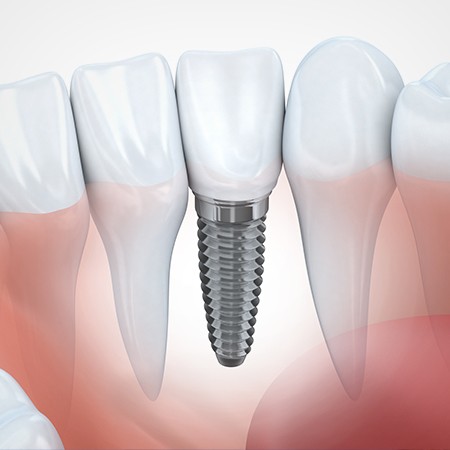 In order to be a good candidate for dental implants, a patient needs a healthy mouth, stable overall health, and a thick enough jawbone to support the new roots. Our team can help someone if they are lacking any of these requirements. Once they have all been met, we can use the following restorations to help a patient reclaim their smile:
Missing Single Tooth
Instead of having to shave down the healthy teeth surrounding a missing one to secure a bridge, a single implant root and crown can be placed into the smile without disturbing the nearby dental structure, better preserving someone's remaining teeth.
Learn More About Single Tooth Dental Implants
Missing Multiple Teeth
Implant crowns can be placed throughout the mouth, or a small number of roots can provide support for a partial denture or bridge. Compared to regular dental prosthetics, implant-retained ones have a much stronger hold and can be trusted to last longer as well.
Missing All Teeth
A custom-made full denture can be secured to the jawbone using as few as 2 implants; however four to six well-placed implants can provide you with the confidence and function you once had with your natural teeth. This is a much more cost-effective approach than replacing each tooth with an individual implant, and patients will also enjoy a stronger and more secure bite compared to a traditional removable prosthetic.
How Dental Implants Work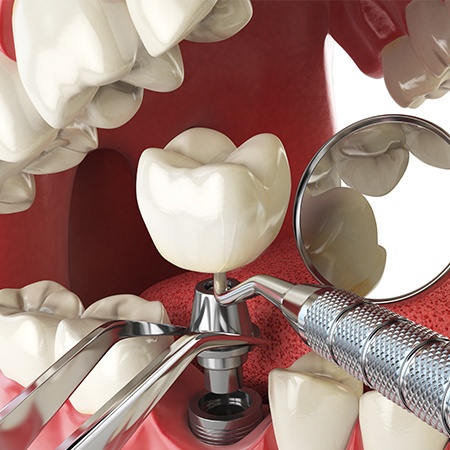 The dental implant procedure involves two main phases: placement and restoration. For the placement of the new roots into the jawbone, Dr. Fana will refer a patient to one of his partnered periodontists or oral surgeons. This ensures that someone will receive the highest quality care possible from a specialist who has performed the procedure countless times. Once a patient's mouth has healed, they'll return to Dr. Fana to have their new teeth attached to their implants. This collaborative approach guarantees a smooth process and fantastic results each and every time.
Learn More About How Dental Implants Work
Understanding the Cost of Dental Implants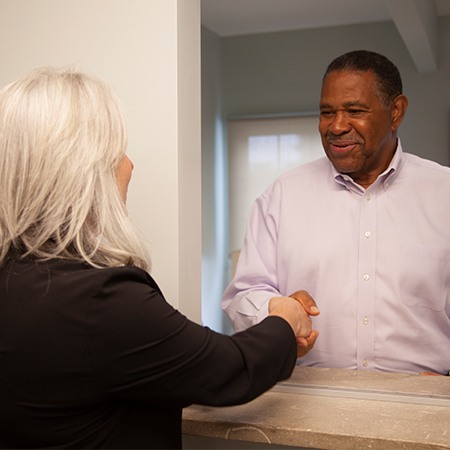 Because there are so many different ways dental implants can be used to help patients dealing with varying degrees of tooth loss, the overall cost of the procedure can fluctuate from patient to patient as well. Everything from the number of implants needed to the type of restoration used can influence the price. While dental implants are often more expensive than other traditional options, they are a solution that is designed to last for decades, and many patients are able to trust the same implants for the rest of their life. By comparison, traditional bridges and dentures typically need to be completely redone every five to seven years.