Dental Implants – Savannah, GA
Not Your Average Tooth Replacement
Tooth loss can occur for many different reasons, including injuries, heredity, poor oral hygiene, gum disease, and more. It's no wonder that millions of Americans are missing one or more teeth! Not only does tooth loss contribute to multiple oral health problems, but it can also impair your self-confidence. Here at Compass Dental, Dr. Charles Fana can give you the next best thing to having your real teeth back – dental implants. Contact us today to schedule a consultation with Dr. Fana and find out how dental implants in Savannah, GA can help you!
Why Choose Compass Dental For Dental Implants?
#1 Entire Dental Implant Treatment Completed Under 1 Roof
#2 Modern Dental Office with State-Of-The-Art Technology
#3 Savannah Dentist With 20+ Years of Experience
What Are Dental Implants?
Dental implants are the only tooth loss treatment that replaces the entire tooth (visible crown and hidden root), while traditional bridges and dentures only replace the crowns. The dental implant itself is a professional-grade titanium post that is surgically inserted into the jaw where a tooth's roots used to be. Titanium is biocompatible, so it encourages the jawbone to grow around it. Eventually, the implant becomes a part of your anatomy, fulfilling all the functions of your natural teeth. It also creates a strong, reliable foundation for any number of teeth to be replaced with lifelike crowns, bridges, or dentures. The end result is a full set of pearly whites that look and feel just like the ones Mother Nature gave you!
The 4 Step Dental Implant Process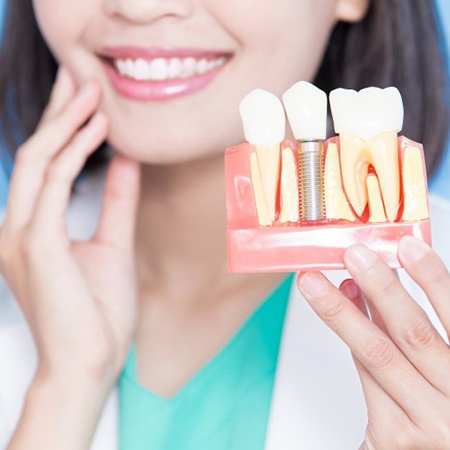 The dental implant process involves four main steps: consultation, surgical placement, osseointegration, and restoration. While other dental practices need to refer their patients out for part of the dental implant treatment process, we're proud to perform every step right here in our Savannah office. Dr. Fana has completed advanced training in dental implantology, so you won't have to go to an unfamiliar specialist to have your implants placed. Once a patient's mouth has healed, they'll return to our office to have their new teeth attached to their implants.
Initial Consultation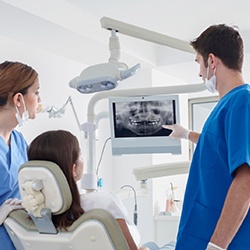 The first step on the path to restoring your smile is to schedule an initial consultation with an implant dentist in Savannah. When you come visit us, Dr. Fana will evaluate your teeth, gums, and jawbone to confirm that you are a good candidate for the procedure. In addition, the consultation is an opportunity for you to tell us about your personal expectations and smile goals.
Most adults with missing teeth make good candidates for dental implants, which have a very high success rate of approximately 98 percent. In general, candidates for the treatment must have:
Healthy Gums
Strong and thick jawbone
Excellent oral hygiene habits
Dental Implant Surgery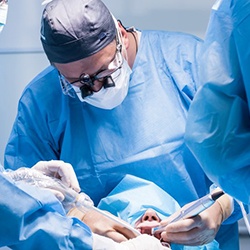 While the word "surgery" can sometimes cause people to pause, the dental implant procedure is not as invasive as you might think. A small incision is made in the soft tissue where a tooth is missing, and the dental implant is carefully positioned into place. Once the implant is firmly in the jawbone, the gums are closed back up with a few small stiches. Local anesthesia is used to during surgery to numb the mouth and prevent any pain or discomfort, and we'll likely recommend calming dental sedation as well. It's really that simple!
Dental Implant Osteointegration/ Abutment Placement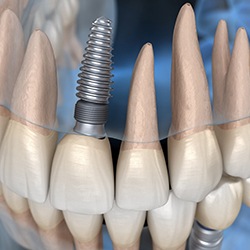 After surgery is complete, the healing process begins. Over the next four to six months, the dental implant will fuse with your jawbone through a natural process called "osseointegration". By integrating with your healthy dental structures and mimicking natural tooth roots, dental implants are able to provide maximum support for artificial teeth.
When the implant has fully fused with your jawbone and the surgical site has healed, you will return to our office so Dr. Fana can place an abutment on top of the implant. The abutment is the connector piece that attaches the dental implant post with your new crown, bridge, or denture. Once the abutment is in place, we will take bite impressions so that your new artificial teeth can be custom designed in a dental laboratory.
Delivery of Dental Implant Restorations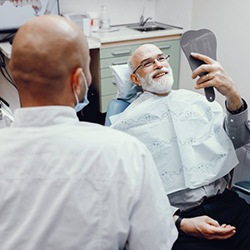 Once your mouth has fully healed after the abutment placement and we have received your custom restorations from the laboratory, we will welcome you once more for the final step of the process – putting your new teeth in place! Dr. Fana will check the fit of your restorations and attach your new crown, bridge, or denture on top of the dental implant. From here on out, you can once again enjoy the full form and function of a healthy and whole smile!
The Benefits of Dental Implants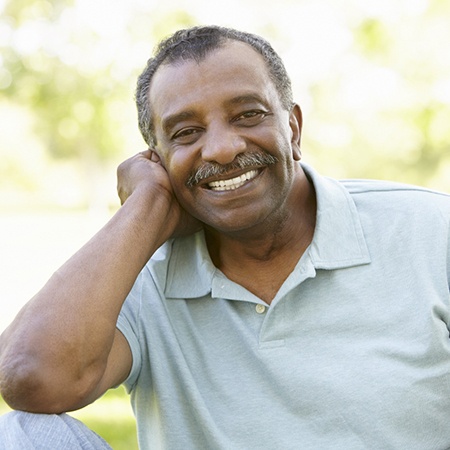 Did you know that each year, over 500,000 people choose dental implants to replace their missing teeth? Thanks to their one-of-a-kind surgical placement in the jawbone, there are many benefits of dental implants in Savannah that you won't be able to enjoy with traditional solutions like dentures or bridges. With a variety of health and lifestyle advantages, it's easy to see why patients choose dental implants. Read on to learn more about this amazing tooth replacement option!
Day-to-Day Benefits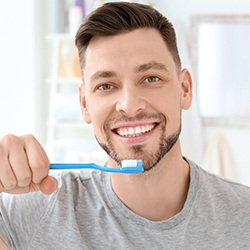 Confidence: Speaking and smiling in social and professional situations can be embarrassing if you have ill-fitting dentures or missing teeth. However, dental implants look, feel, and function just like natural teeth, giving you the self-esteem and confidence boosts that you deserve!
Diet: Are you tired of avoiding your favorite foods just because they are difficult or uncomfortable to eat? Dental implants are firmly rooted in the jawbone, allowing you to consume all your favorite meals and snacks while also intaking more nutrition.
Maintenance: Traditional replacements like dentures require extra daily care and cleaning. Thankfully, dental implants can be cared for like your natural teeth. Just remember to brush, floss, and visit our office regularly.
Health Benefits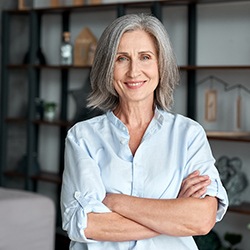 Dental health: Dental implants promote better oral health by making it easier to care for your smile. This decreases risks of issues like gum disease, infection, and decay. Plus, dental implants keep the rest of your natural teeth aligned by filling the gap and supporting them.
Bone health: When you lose teeth, your jawbone loses the stimulation it was getting from their roots, causing it to deteriorate. This can lead to additional tooth loss and a sunken facial appearance. However, dental implants placed by our implant dentist in Savannah are the only option that stimulates the jawbone to keep it strong, full and healthy!
Overall health: Dental implants lead to better overall health by keeping your gums healthy and allowing you to eat better foods. Gum disease has been shown to increase risks of problems like strokes, diabetes, and heart attacks. Plus, the ability to eat fruits and veggies will give you a well-rounded diet that your body will thank you for.
Long-Term Benefits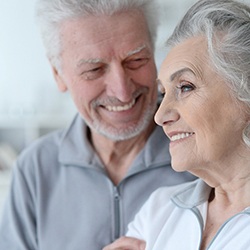 Longevity: If you're looking for the longest lasting tooth replacement, you're in luck! Dental implants can last for over 3 decades and even the rest of your life with proper care. That said, it's important to see us regularly for checkups and cleanings to maintain your new smile.
Predictability: You may get a little worried because dental implants in Savannah require a surgery, however they are incredibly predictable. Dental implants have a success rate of 95% even after 10 years, giving you confidence and peace-of-mind for your treatment.
Cost: While dental implants tend to cost more than other solutions, they can actually help you save money in the long run. Because they last for decades, you'll spent less time and hard-earned cash on your smile by avoiding extra replacements.
Who Dental Implants Can Help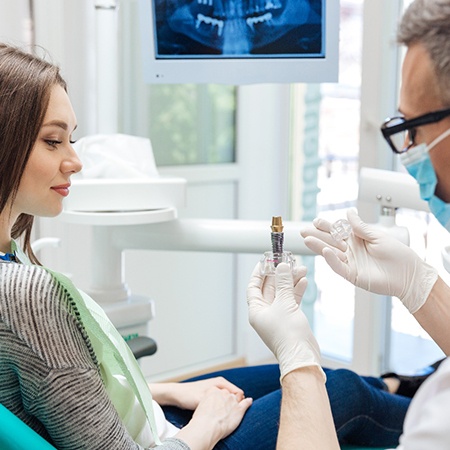 In order to be a good candidate for dental implants, a patient needs a healthy mouth, stable overall health, and a thick enough jawbone to support the new roots. Our team can help someone if they are lacking any of these requirements. Once they have all been met, we can use the following restorations to help a patient reclaim their smile:
Missing Single Tooth
Instead of having to shave down the healthy teeth surrounding a missing one to secure a dental bridge, a single implant root and crown can be placed into the smile without disturbing the nearby dental structure, better preserving someone's remaining teeth.
Missing Multiple Teeth
Several dental implants can be placed throughout the mouth, or a small number of roots can provide support for a partial denture or bridge. Compared to regular dental prosthetics, implant-supported ones have a much stronger hold and can be trusted to last longer as well.
Missing All Teeth
A custom-made full denture can be secured to the jawbone using as few as four implants to provide you with the confidence and function you once had with your natural teeth. This is a much more cost-effective approach than replacing each tooth with an individual implant, and patients will also enjoy a stronger and more secure bite compared to a traditional removable prosthetic.
<Learn More About Implant Dentures>
Missing All Teeth With Low Jawbone Density
When you want to replace many teeth at a time while simultaneously restoring your smile all in the same visit, there's no treatment quite like All-on-4 dental implants. This unique approach to tooth replacement allows Dr. Fana to both place the implants responsible for holding your restoration and cover those same implants with a temporary prosthetic while the implants heal. Plus, patients who have experienced jawbone deterioration after tooth loss may qualify for All-on-4 treatment without the need for an invasive bone graft. With advanced techniques and the right team, Compass Dental can make your dream smile a reality!
Understanding the Cost of Dental Implants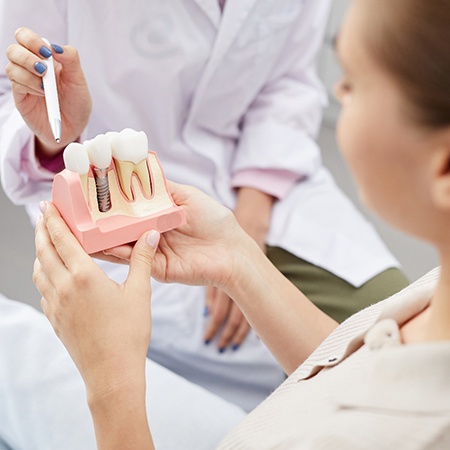 Because there are so many different ways dental implants can be used to help patients dealing with varying degrees of tooth loss, the overall cost of the procedure can fluctuate from patient to patient as well. Everything from the number of implants needed to the type of restoration used can influence the price. While dental implants are often more expensive than other traditional options, they are a solution that is designed to last for decades, and many patients are able to trust the same implants for the rest of their life. By comparison, traditional bridges and dentures typically need to be completely redone every five to seven years. Read on to learn more about the cost of dental implants in Savannah.
Preliminary Treatments & Implant Surgery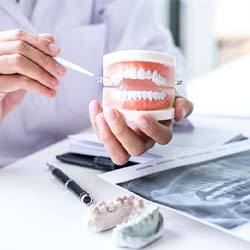 In some cases, patients need additional treatments before they can receive dental implants. This includes tooth extractions, bone grafting, or sinus lifts, all of which play a role in successful dental implant treatment. Anesthesia or a sedative will be used during your placement surgery to ensure your comfort while inserting your posts into your jawbone. Since we will be handling every step of your dental implant treatment, you won't have to worry about paying to see an unfamiliar specialist for this portion of your procedure.
The Parts of Your Dental Implant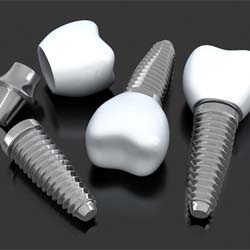 There are several factors that influence the cost of dental implants, like the number of teeth you're missing. On average, the more teeth you're replacing, the more you can expect the treatment to cost. The more implants you need to rebuild your smile, the more materials we'll need to utilize. Each post must have an abutment to connect your restoration to your posts, increasing costs further. If you have questions about the makes and models of dental implants the oral surgeon uses, you're welcome to ask us and we'll do our best to get you more information.
Final Dental Implant Restoration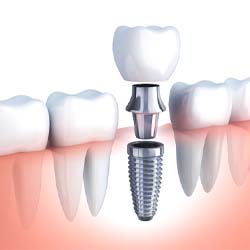 Your restorations are crafted from high-quality material and can sometimes be the most expensive part of your treatment. If your restoration is particularly complex, it will require more materials and time to design and fabricate. This is especially apparent for implant dentures and bridges, both of which require far more time to create than single implant crowns. We'll ensure your restoration looks lifelike and feels like a natural part of your bite after it has been attached to your implants.
Does My Dental Insurance Cover Dental Implants?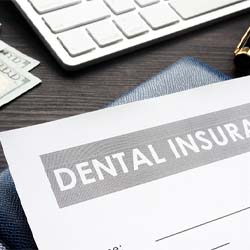 It's rare for a dental insurance plan to pay the entire fee for the treatment, but it can lower various portions of the total cost. For example, you may be able to receive coverage for the restoration that attaches to your implant or preparatory services that make dental implant treatment possible. Dr. Fana is in-network with all major PPO plans and is happy to file the necessary claims and paperwork to reduce the amount you need to pay.
Making Dental Implants Affordable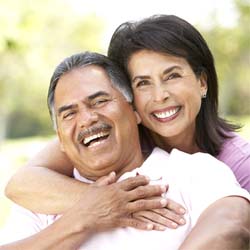 Dr. Fana also accepts several payment options to cover any remaining balance, including CareCredit. This third-party financing option allows you to pay for treatments over the span of several months, rather than all in one lump sum. Depending on the plan you choose, you can even expect little to zero interest attached. Our office also has a wellness plan for discounted services, making it easier for you to put funds towards tooth replacement treatment. Dr. Fana will help you find the solutions you need to keep your treatment affordable, so feel free to ask us about our payment options during your consultation and we'll help create a plan that fits into your budget.
Advanced Dental Implant Procedures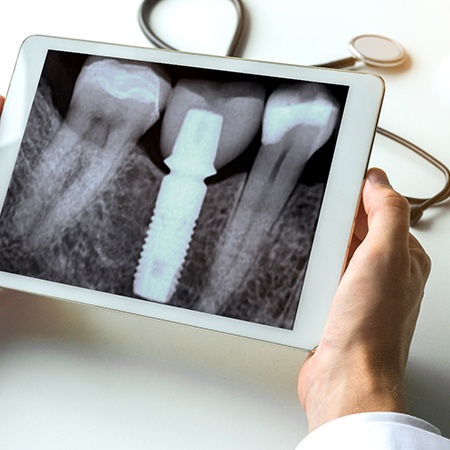 To be a good candidate for dental implant surgery, you need to have adequate jawbone density to support your dental implants. Unfortunately, since jawbone deterioration is a natural side-effect of tooth loss over time, this can be an issue for many patients. Fortunately, that doesn't mean you can't become a candidate for dental implants! Patients who do not have a strong enough jawbone may be able to get advanced dental implant procedures like a bone graft or sinus lift to help set up a strong foundation for their new smiles. Read on to learn more about these state-of-the-art treatments!
Bone Grafts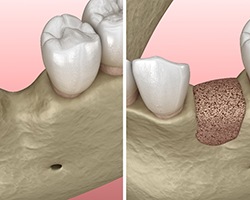 Bone grafts are a very common procedure used to help patients become good candidates for dental implants. First, bone tissue is taken from another part of your body or from a doner. This tissue is then grafted onto the part of the jawbone that needs to be strengthened. This new tissue revitalizes the area and promotes new bone growth.
Like osseointegration, fully healing from a bone graft to the point where we can move on to the next step of your dental implant treatment will take several months. However, the strong new smile that can potentially last a lifetime will be well-worth the extra time!
Sinus Lifts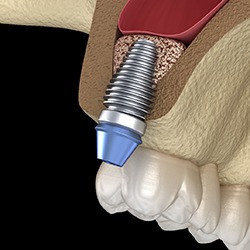 A sinus lift is a special type of bone graft that is used if there is not enough jawbone density in the upper back portion of your jaws. If the jawbone isn't thick enough here, placing a dental implant could cause it to poke into the sinus cavity, causing a wide range of complications and discomfort. To keep this from happening and ensure your dental implant has a solid foundation, a sinus lift will be recommended. This treatment starts with making an incision in the gums to create an opening in the exposed bone. Then, the sinus membrane is gently pushed up and away from the jawbone. This empty space will then be packed with grafting material, such as bone tissue from another part of your body or tissue from a donor.
The tissue will fuse with the current bone structure and encourage growth, giving you more density exactly where you need it. Like a bone grafting, it will take several months to heal from this process before you can move on to the next step of your treatment, but you'll enjoy peace of mind in the foundation of your new smile.
Maintaining & Caring for Your Dental Implants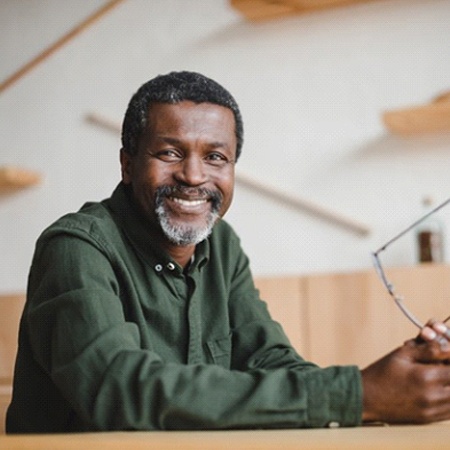 One unique advantage that dental implants have over other tooth replacements is their long lifespan. Even though they can last for 30 years or longer in more than 95% of cases, it's still up to you to take good care of them and ensure they remain in great condition. By following these basic steps for dental implant care in Savannah, you'll enjoy a confident, healthy smile for decades to come!
Make Oral Hygiene a Priority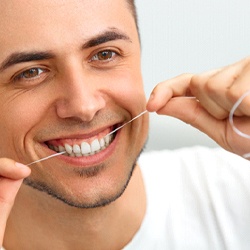 Day-to-day oral hygiene is still crucial, even if all of your missing teeth have been replaced with dental implants. Without proper brushing, flossing, and rinsing with mouthwash, bacteria could build up in your mouth and infect your gums. Since gum disease is the most common reason for dental implant failure, you'll want to avoid it at all costs. Luckily, this is fairly easy if you brush twice a day for two minutes each time, floss at least once daily, and use mouthwash regularly.
Eat a Healthy Diet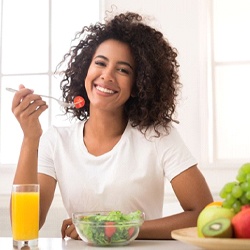 Indulging in a bowl of ice cream or a slice of cake every now and then is fine, but don't make it an everyday occurrence. Too much sugar and starch can increase the risk of oral infections, which could spell disaster for your dental implants in Savannah. Instead, make sure your diet primarily consists of leafy greens, fruits, vegetables, lean proteins, and other foods that have the nutrients your gums and jawbone need to support your new teeth.
Break Bad Habits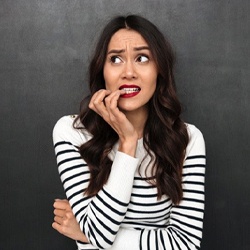 The same bad habits that can destroy natural tooth enamel are also detrimental to dental implants. Smoking, biting your fingernails, eating ice, using your teeth to open packaging, chewing on pencils or pens… these habits can easily damage your implants to the point that they fail, leaving you back to where you started – with missing teeth. Keep your smile safe by asking our team how you can kick these habits.
Protect Your Dental Implants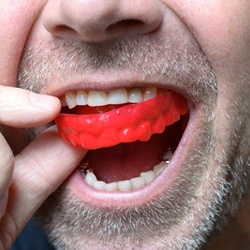 Do you tend to grind your teeth when you're stressed? Do you often wake up with a sore jaw or sensitive teeth? If so, ask Dr. Fana about a custom nightguard to prevent damage from chronic nocturnal teeth grinding. Left untreated, this habit could wear down the enamel of natural teeth and weaken dental implants.
On a similar note, consider wearing a custom mouthguard if you play sports that come with a risk of impact to the face. A sudden mouth injury can crack, loosen, or knock out a dental implant just as easily as it can a natural tooth.
Schedule Regular Dental Checkups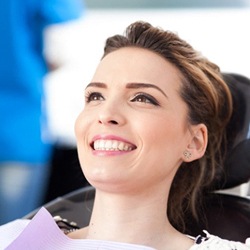 Just because you have dental implants doesn't mean that regular dental checkups aren't still important. In fact, they're essential if you want your new teeth to stay in good shape. By coming in to see your implant dentist in Savannah at least every six months, we can catch warning signs of problems early on, preventing them from becoming more time-consuming and expensive down the road.
Dental Implant FAQs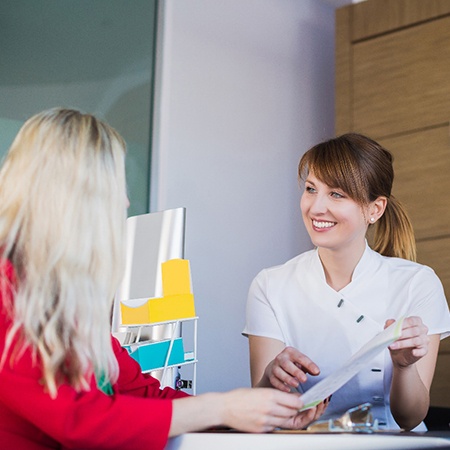 You're excited to rebuild a complete smile, but we also know you have several questions about dental implants in Savannah. Dr. Fana takes the time to explain the process and addresses your concerns, so you will feel confident about your decision to replace your missing teeth. To help ease your worries until it's time for your appointment, here are the answers to a few of the most common questions we receive.
Can I Get Dental Implants If I Have Gum Disease
The long-term success of dental implants relies on your jawbone's ability to support the posts and also remaining infection-free. As a result, you are not a candidate for dental implants if you have gum disease, but that doesn't mean you can't become one.
You will need to undergo periodontal therapy to treat the infection before you can have your placement surgery. You may also need additional procedures to repair any damage caused by the infection, like bone grafting.
How Long Will the Dental Implant Process Take?
It will take several months to replace your missing teeth with dental implants, but it is time well spent. Each phase of your treatment is necessary to ensure the long-term success of your new smile. You'll begin with your initial consultation, and you may need specific procedures to create the right foundation for your dental implants. Afterward, you're ready for your placement surgery.
Once your dental implants are in place, you'll spend the next several months healing. Your jawbone will fuse to the posts through a process called osseointegration. Finally, you'll undergo the restoration phase. Your abutments are placed on your implant posts to fit you with your custom-made prosthetic.
Can Dental Implants Fail?
Dental implants are the most reliable option to replace missing teeth because they have over a 95% success rate. Although it is rare, dental implants can fail. Most often it's the result of an infection called peri-implantitis. It is caused by bacteria found in plaque buildup. You can reduce your risk of implant failure by maintaining your oral hygiene at home. Don't forget to visit your dentist in Savannah at least twice a year for a cleaning and checkup.
If you notice any concerning signs in between regular appointments, such as your implant feeling loose or pain, do not wait to see your dentist. Quick detection and treatment can help reduce the risk of complete dental implant failure.