Cosmetic Dentistry – Savannah, GA
Light Up the World with Every Smile
How does your smile make you feel? Confident, or do you constantly worry that people are going to notice your flawed teeth? Even healthy teeth can develop obvious imperfections over the years, but thanks to Dr. Fana, none of them have to be permanent. Whether you're dealing with obvious stains, chips, cracks, or gaps, Dr. Fana can help you achieve the big, bright, and beautiful grin you've always wanted using cosmetic dentistry. Thanks to his years of experience and use of technology, it will only take him a few appointments to turn your dream smile into a reality. To get started, contact us today.
Why Choose Compass Dental for Cosmetic Dentistry?
Meticulous attention to detail guarantees beautiful & natural-looking results
Eliminate multiple issues at the same time with porcelain veneers
Virtual Smiles: See the final results before you begin treatment
Porcelain Veneers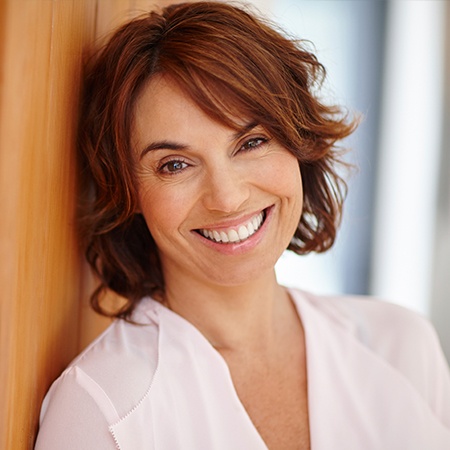 No matter what might be affecting your smile's appearance, porcelain veneers can likely make it disappear. Extremely thin ceramic restorations are bonded to the front of the teeth that are designed to look like pristine white enamel. They allow Dr. Fana to change the shape, size, and color of a patient's teeth to whatever they want to create their ideal look. They are always custom-made, and the process to get them only requires two easy appointments.
Learn More About Porcelain Veneers
Metal-Free Dental Crowns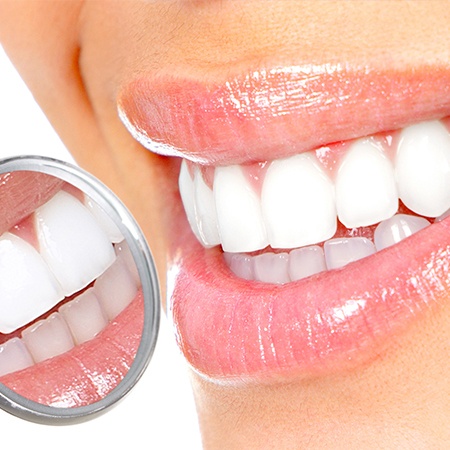 Now, if you need to have one of your front teeth repaired, you won't be forced to choose between an unnatural-looking gold or silver crown. Dr. Fana can use high-quality dental porcelain to make a restoration that resembles a real tooth down to the finest detail, even recreating how enamel reflects light. With one, a patient will be able to rely on their repaired tooth whether they are smiling for the camera or taking a bite of their favorite food.
Dental Bonding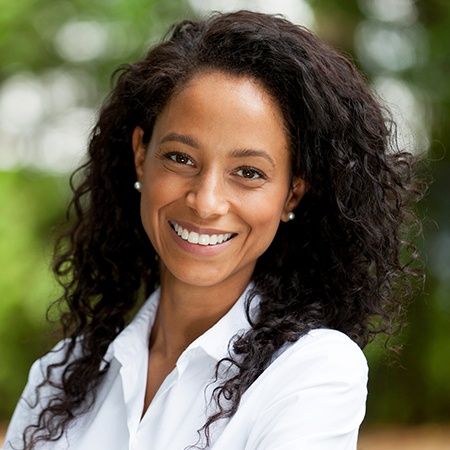 Cosmetic bonding is a quick and affordable treatment that is excellent for taking care of minor flaws like small stains, thin gaps, and slight chips. Dr. Fana simply covers the offending part of the tooth with a color-matched composite resin, and then he sculpts it to look like perfectly healthy enamel. After hardening the material, it will look like the problem was never there in the first place. From beginning to end, the process usually only takes about an hour.
Learn More About Cosmetic Bonding
Zoom® Teeth Whitening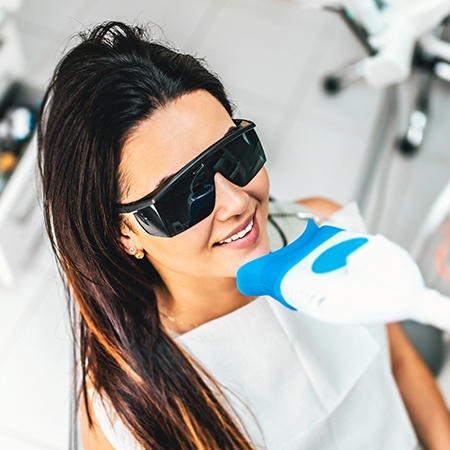 Everyone wants to have a sparkling white smile, but factors like coffee, wine, tobacco, and even natural aging can all cause your teeth to lose their luster as the years go by. Fortunately, with Zoom! Teeth Whitening, we can quickly turn back the clock. Using a highly concentrated bleaching gel and special low-UV light, Zoom! can break up even the most deeply set stains to help your teeth's natural whiteness shine through. In as little as an hour, this treatment can make your smile up to eight shades brighter!
Learn More About Teeth Whitening
Gum Recontouring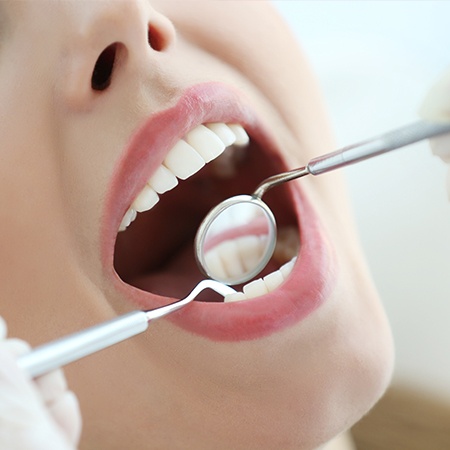 Does your smile show more gums than teeth? This is a very common issue, and it's one Dr. Fana can easily address in just a few minutes with the help of a soft tissue laser. With it, he can quickly and precisely remove any excess tissue to reveal previously hidden enamel, instantly making the teeth appear longer and the smile more balanced. In just one appointment, he can give you the perfectly proportioned look you desire.
Learn More About Gum Recontouring
Lab Created Virtual Smiles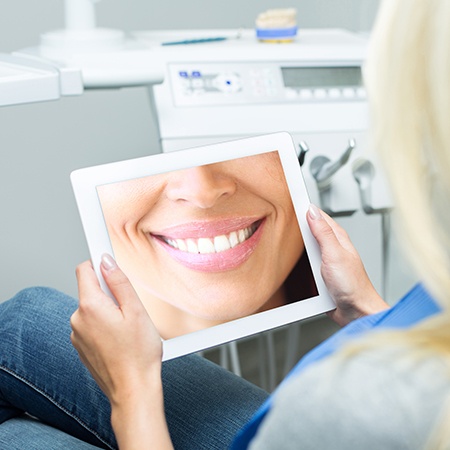 Getting a cosmetic treatment can be a bit intimidating—what if you don't like the final results? To ensure you'll love your new smile, Dr. Fana can create a wax mock-up of what your teeth will look like after a procedure. That way, you can make sure you're getting exactly what you want, and making any adjustments is nice and easy. Dr. Fana can even show you multiple mock-ups with different options so it's easier to decide which treatment(s) you'd like.
Smile Makeover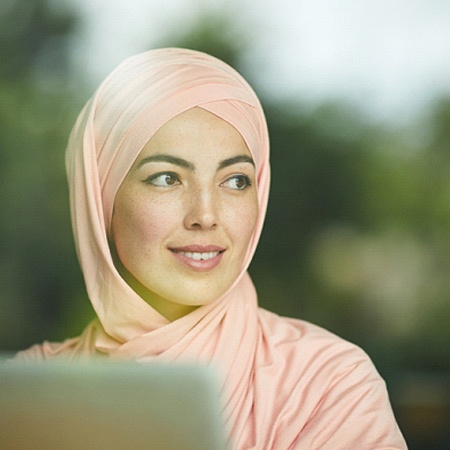 If you have one two many imperfections that litter your smile and bring down your confidence, you may benefit the most from a smile makeover. We'll thoroughly examine your teeth and gums and discuss your cosmetic goals. Based on what we talk about, we'll put together a custom-tailored treatment plan to address them over time. The plan can consist of two or more of any of the smile-transforming services that we offer, like gum recontouring, teeth whitening, porcelain veneers, etc. Once you've completed your makeover treatment plan, you'll have a brilliant and beautiful smile that you'll be unafraid to let show.
Learn More About Smile Makeovers
Understanding the Cost of Cosmetic Dentistry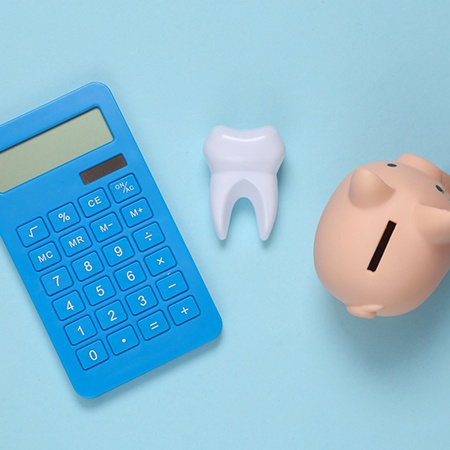 Even if you want cosmetic dentistry, maybe its (potential) price worries you. An understandable concern – a treatment is only helpful when you can afford it. Still, the cost of cosmetic dentistry actually varies by patient. That means you must consult Dr. Fana for a precise treatment estimate. Once you have, our office will walk you through financing options that make care affordable. Keep reading if you'd like to learn more, or call our office for the relevant details.
Which Cosmetic Dental Service is Right for Me?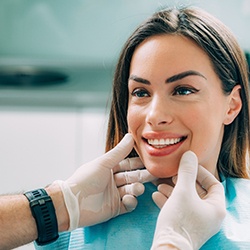 A patient typically wants one (or more) of three things from cosmetic dentistry: whiter teeth, straighter teeth, or differently shaped teeth. However, the dental field's treatments have varying prices and effects. You'd be wise to learn about these procedures before committing to anything. (By doing so, you'll get better cosmetic care.) With that said, our cosmetic options include the following:
Gum Recontouring – By using a dental laser, this option removes excess gum tissue from your mouth. The result is a less "gummy" smile that reveals more of your white tooth enamel. Best of all, the procedure is cheap and offers permanent effects.
Dental Bonding – Dental bonding corrects minor smile flaws with tooth-colored resin. (These range from minor chips and cracks to light tooth stains.) Unfortunately, its results aren't long-lasting; you'll need a touch-up every few years.
Zoom® Teeth Whitening – As you'd expect, Zoom® teeth whitening whitens your smile. More specifically, it uses a special gel to remove stains from the enamel. While effective, though, it's moderately priced and only affects tooth color.
Metal-Free Crowns – Per their name, metal-free crowns are non-metallic crowns that blend seamlessly with your smile. Thanks to using high-quality porcelain, they protect your teeth from further decay and bolster their looks.
Porcelain Veneers – Veneers are thin shells placed on the fronts of teeth. Made of porcelain, dentists use them to hide dental imperfections – chips, cracks, stains, etc. This versatility means they improve tooth color, shape, and position, but it also makes them expensive.
Smile Makeover – Rather than its own procedure, a smile makeover is a combination of two or more cosmetic services. Naturally, this latter quality makes it the most expensive cosmetic option available.
Cosmetic Dentistry Saves You Lots of Money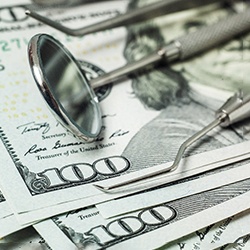 True enough, cosmetic dentistry can get rather pricey. However, its procedures represent a great, long-term investment that pays off over time. Getting them today will make your tomorrow all the sweeter.
You see, cosmetic dental services offer priceless perks. The most notable is your transformed smile, which can boost your confidence and lower your anxiety. This improved attitude, in turn, can strengthen your relationships with friends, family, and others. From there, you'll notice a boost in your quality of life.
How to Make Cosmetic Dentistry Affordable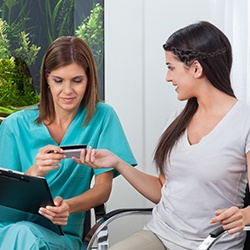 While dental insurance normally won't cover it, there are other ways to make cosmetic dentistry affordable. An especially good one is your local practice's financing options. With the right payment plan, an otherwise expensive treatment can become budget-friendly.
Just look at Compass Dental, for instance. Our office happens to offer offers options like:
Dental Wellness Plans – For a small annual fee, our practice will take 20% off of your Usual Customary and Reasonable (UCR) charge.
Flexible Financing – We at Compass Dental work with CareCredit, a third-party financier. Through them, you could pay for a cosmetic service with monthly, low-interest installments.
To get more financing details on cosmetic dentistry, book a consultation with us! Our team is ready and eager to make your smile pretty without "breaking the bank."
Cosmetic Dentistry FAQs
Do you want to be proud of your smile? At Compass Dental, we can use any of the services described above to overcome nearly any aesthetic imperfection in your teeth and give you a smile you just can't wait to show off. During your consultation, we can review your smile goals, discuss your treatment options, and answer any questions you may have about the process. In the meantime, we invite you to read this list of frequently asked questions about cosmetic dentistry and their answers.
Isn't Cosmetic Dentistry Just About Looks?
Not at all! Cosmetic dentistry aims to help your smile look and feel its very best. In many cases, fixing flaws in your teeth can also shield them from bacteria and damage, lowering your risk of oral health problems like gum disease and tooth decay. Plus, when your pearly whites look great, you'll naturally want to smile more often. This can come with health benefits. Researchers have found that smiling can reduce stress and blood pressure. It can even boost your immune system!
How Long Does Cosmetic Dentistry Take?
Just as no two smiles are exactly alike, the answer to this question will differ for each and every patient. The amount of time your treatment will take depends on the services you choose to improve your smile. Quick and easy services, like bonding and in-office teeth whitening, can dramatically enhance your smile in just one appointment. More customized treatments, such as crowns or veneers, usually take two visits. We can lay out a treatment timeline at your consultation.
Is Cosmetic Dentistry Safe?
As much as we want all of our patients to have a gorgeous grin, we care about your dental health first and foremost. Before we begin any treatments, we'll closely examine your teeth and gums to make sure they're ready for their transformation. Problems like cavities and gum infections can not only jeopardize your oral health, but can make certain treatments uncomfortable or ineffective. If we detect even the slightest warning signs of these issues, we'll address them before they put your smile at risk. Once your dental health is in good shape, then we can move forward with your smile makeover!
Will My Dental Insurance Cover the Cost of Cosmetic Dentistry?
Unfortunately, most dental insurance policies do not cover elective procedures such as cosmetic dentistry. However, our team can look over the details of your plan to determine whether you're eligible for any coverage. We're in-network with the majority of popular PPO dental insurance plans.
If you don't have insurance, don't worry. We have partnered with CareCredit and can help you apply for a flexible payment plan with little to no interest. Alternatively, we have an in-house Dental Wellness Plan. By paying a flat annual membership fee, you and your family can receive FREE preventive services as well as a discount on most of our other treatments, including cosmetics.