Dentures – Savannah, GA
Regain Your Smile with Compass Dental Dentures!
Dr. Fana and his team are fully qualified to provide customized, all-natural dentures, regardless of the number of teeth you may be missing. It doesn't matter if you lost your smile due to gum disease, tooth decay, or an injury, it's always better to replace your teeth and maintain your oral and overall health. Dentures make many daily tasks easier, including eating, speaking, and other tasks people tend to take for granted. Furthermore, tooth loss negatively affects your facial appearance because it causes muscles to sag over time. This can cause your face to prematurely age. With the help of dentures, you can improve your overall appearance, not just your smile's. The materials we use also make your smile look as natural as possible, ensuring you have the confidence to smile again.
Why Choose Compass Dental for Dentures?
Natural-looking dental materials
Highly customizable partial and full dentures
Dentist is an expert in facial esthetics
What's the Difference Between Full and Partial Dentures?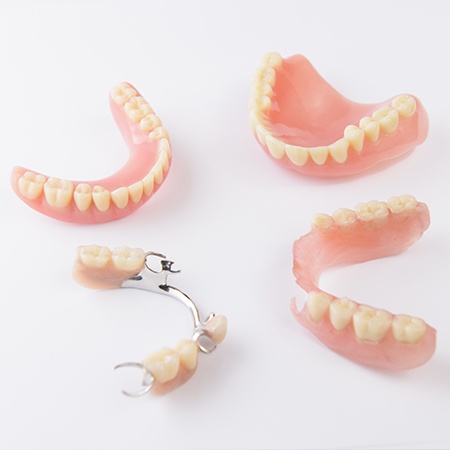 Dentures come in two forms: full/complete and partial, both of which have pretty unique differences. Full dentures are intended to replace an entire arch of teeth. Partial dentures only replace one or more teeth, typically on opposite sides of the arch. Additionally, partial dentures carry removable replacement teeth which are attached to a gum-colored base made from acrylic. This restoration connects to existing teeth and fills the gaps in your smile, giving it a completed and natural look. Thanks to advancements in dental technology, metal clasps are no longer needed. In contrast, full dentures consist of a plastic base that is colored in order to effectively mimic gum tissue. The base is filled with composite resin or porcelain teeth. To stay in place, full dentures are held in place by natural suction, forming a seal with the gums. Today's dentures are more comfortable and natural-looking than ever before!
Schedule Your Appointment to Learn More About Dentures in Savannah, GA.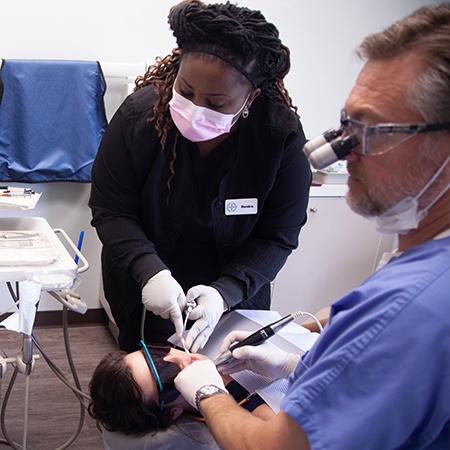 Feel free to give our Savannah, GA dental office a call to learn more about dentures. All individuals are welcome to take advantage of comprehensive new patient dental health exams from Dr. Fana. This evaluation includes a brief tour of our dental office and its state-of-the-art amenities, a thorough dental exam, oral cancer screenings, gum health exams, digital x-rays, and a detailed in-person consultation! There's no better time than now to experience Compass Dental and it's top-rated dentist. We can't wait to meet you and your family and look forward to satisfying all of your dental care needs!