Dentures – Savannah, GA
Have the Confidence to Smile Again
Whether you've lost teeth to gum disease, tooth decay, or injury, it's always a good idea to replace them when they go missing. That way, you can maintain your oral health and prevent long-term problems! With that said, you may want to try dentures in Savannah. This treatment from Compass Dental will restore your smile and make your mouth healthier. If you'd like to learn more about it, just keep reading or contact our office for details.
Why Choose Compass Dental for Dentures?
Natural-Looking Dental Materials
Highly Customizable Partial and Full Dentures
Dentist Is an Expert in Facial Esthetics
Who is a Good Candidate for Dentures?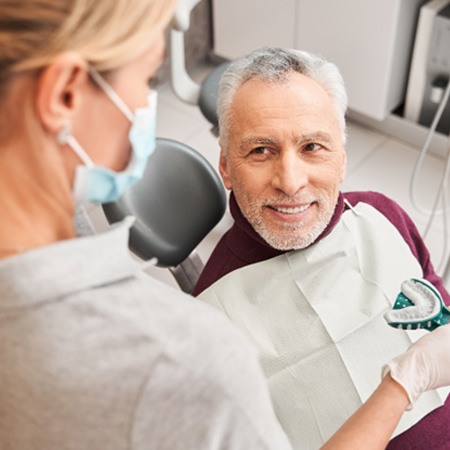 If you suffer from the effects of tooth loss, you're likely a good candidate for dentures. After all, lacking teeth can make it hard to eat or speak in daily life. Even smiling becomes a challenge due to the embarrassment of showing your gaps.
Still, not everyone with missing teeth would benefit from dentures. For example, those who still have pearly whites along an arch may benefit from a different procedure. Furthermore, a prospect needs to have healthy gums to support dentures properly. Patients with gum disease, then, would need preventive care first.
Types of Dentures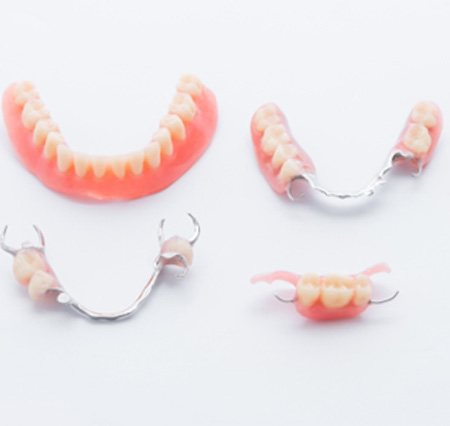 Before the actual denture treatment, you'll need to consult with Dr. Fana. Doing so helps you grasp how your future results will look. Plus, a consultation lets our team learn your smile goals, medical history, etc.
Based on this discussion (and an oral exam), our office will suggest one of three types of dentures. These options include:
Partial Dentures
Partial dentures only replace a few teeth, typically on opposite sides of the arch. As such, they rely on a unique frame to connect to existing teeth.
In most cases, partial dentures are made of removable, replacement teeth attached to a pink acrylic base.
Full Dentures
Per their name, full dentures replace all the teeth along an arch. They thus use natural suction to keep themselves in place, forming a seal with the gums.
Full dentures consist of a plastic base colored to mimic gum tissue effectively. That base, in turn, is filled with composite resin or porcelain teeth.
Implant Dentures
Consider implant dentures if you'd like a more permanent and unwavering option. These kinds use dental implants to stay secure.
Due to relying on implants, implant dentures are made to be fixed. Only a professional dentist is qualified to remove them for replacement purposes.
The Benefits of Dentures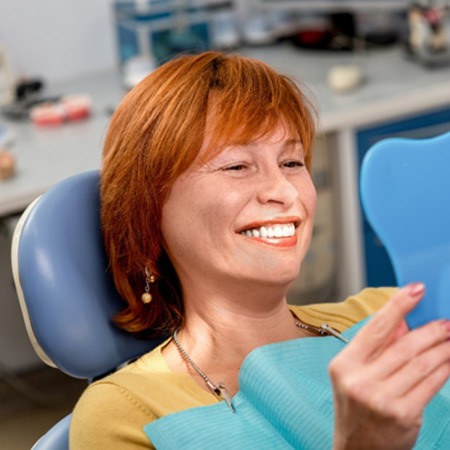 With dentures in Savannah, you'll experience benefits like:
A Lifelike Smile: Due to being custom-made, dentures look like natural teeth and blend seamlessly with your smile.
A Younger Face: Implant dentures, specifically, can prevent facial collapse. In maintaining your jawbone, then, they'll keep your cheeks from looking hollow!
Better Eating: With replacement teeth like dentures, you'll find it easier to bite and chew your favorite foods. They'll thus let you eat a more nutritious diet that boosts your overall health.
Cost-Effective Care: Dentures effectively replace missing teeth for years at a time. Since they often last 7-10 years, they tend to be a good investment.