October 4, 2021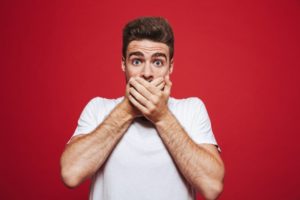 When upgrading your home, you wouldn't paint the outside of your house and leave the inside a mess. It's not unlike trying to whiten your teeth at all costs even when you are struggling with cavities. Getting the cavity situation under control beforehand is exponentially more important.
The shade of the tooth can wait – make sure the tooth will be able to stay in your mouth first. Keep reading to learn why whitening gel and cavities are a problematic combination and why the smart move is to consult with your dentist before any teeth-whitening treatments.
Cavities & Whitening Gel: A Problematic Pairing
Teeth whitening gel derives its bleaching power from hydrogen peroxide, which can upset sensitive teeth. Even a fully healthy tooth can become irritated from exposure to the gel.
If you begin a teeth-whitening regimen prior to getting a cavity filled, the whitening gel can reach the pulp of your teeth to weaken and irritate it. Sometimes, teeth with cavities that were exposed to whitening gel ended up being permanently damaged.
It's wise to get any cavities filled ahead of any teeth whitening so that they are at full strength, and you aren't struggling with pain. Also, if you have a cavity on the biting surface of your tooth, getting it filled can ensure that the bleaching trays fit more securely. If you won't do it to protect your tooth, at least fill the cavity so your whitening efforts are more effective.
Let Your Dentist Know Before Starting Teeth Whitening
If you are planning on a professional teeth whitening treatment performed by your dentist, this step will take care of itself, and you'll get an optimally gleaming result. But if you are going to attempt an at-home whitening treatment, it's a good move to share your plans.
If you've seen your dentist recently, they may be able to recall your dental situation offhand and if not, they can consult your records. You might get valuable advice and all it took was a short phone call.
If you have one or more crowns, keep in mind that they will not change color as a result of teeth whitening treatment. If that tooth is a featured part of your smile, you might rethink your decision. At least with a professional whitening, it would be more precise to get the shades closer to matching.
Letting your dentist handle it can definitely provide you a visually pleasing result, just be sure to take both teeth whitening and your oral health into consideration when making your decision. Save yourself the pain and deal with that cavity first.
About the Author
Dr. Charles Fana has proudly served the Savannah community for decades. He opened Compass Dental in 2000, and along the way, he realized that taking the time to listen to patients and understand their concerns is the key to exceeding expectations. Dr. Fana prides himself on being a student of dentistry, as he's completed the entire curriculum at the prestigious L.D. Pankey Institute. Compass Dental offers the best teeth-whitening services in the area with in-office treatment and take-home kits available. Just remember, if you have a cavity, let Dr. Fana help you with that first. To schedule an appointment, visit his website or call (912) 352-3955.
Comments Off

on How Teeth Whitening Products and Cavities Can Be a Dangerous Duo
No Comments
No comments yet.
RSS feed for comments on this post.
Sorry, the comment form is closed at this time.