July 20, 2021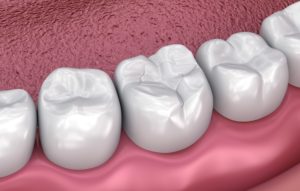 Although they are preventable, at least 92% of adults have had a cavity in a permanent tooth. Thankfully, tooth decay can be treated using a filling. You might be envisioning a dark metal spot on a tooth, but now there's another option. Instead of amalgam, you can benefit from a tooth-colored filling. While metal has been used for generations, here are 5 reasons to choose a tooth-colored solution to restore your smile.
1. Metal and Mercury-Free
Traditional amalgam fillings are made of a mixture of metals, including mercury. Although the American Dental Association has deemed them safe and effective, many people are concerned about long-term mercury exposure. You can skip the risk with a tooth-colored filling. No metals are used in the composite resin material, making the treatment biocompatible. This is the perfect option for patients who have sensitivities to metals or are concerned about using mercury.
2. Natural-Looking Appearance
It's true amalgam fillings stick out like a sore thumb, but a composite filling won't cause an eyesore when you smile. The material is customized to match the color of your tooth to blend in with your enamel. No one will notice the filling, so you can smile confidently without worrying about a dark spot being the focal point when showing your teeth.
3. Preserve Your Tooth Structure
Amalgam fillings require wedges to be cut into your tooth to support the restoration. You won't have to compromise the integrity of your tooth with a composite filling because wedges aren't necessary. Instead, after your tooth has been prepared, a weak acid is applied to it to open the pores in your enamel. The acid is rinsed off before the pre-shaded material is placed on your tooth. A special dental light quickly hardens the filling, so you'll save time in the dental chair while also preserving your tooth's structure.
4. Durable to Last for Years
Although they aren't made of metal, tooth-colored fillings are durable. They can last for a decade or longer with the right aftercare, like maintaining your oral hygiene at home and visiting your dentist regularly. You can promote the lifespan of your filling by avoiding anything that might damage it, like chewing overly hard or sticky foods.
5. Affordable and Cost-Effective Solution
Many dental insurances offer coverage for tooth-colored fillings to offset the amount you need to pay out-of-pocket. Depending on your policy, your plan can pay as much as 80% of the cost, so you can repair your tooth without draining your wallet.
Invest in a Healthy, Confident Smile
If you need a filling, don't wait to treat your tooth. You can protect it from additional damage without compromising the appearance of your beautiful smile.
About Dr. Charles R. Fana, Jr.
Dr. Fana earned his dental degree at the University of Louisville before continuing his training at the L.D. Pankey Institute. He strives to help his patients achieve healthy, attractive smiles using the latest innovations in dentistry, like tooth-colored fillings. If you have a cavity, don't wait until it's too late. Contact our office today to schedule your consultation.
Comments Off

on 5 Reasons to Choose Tooth-Colored Fillings
No Comments
No comments yet.
RSS feed for comments on this post.
Sorry, the comment form is closed at this time.