May 8, 2021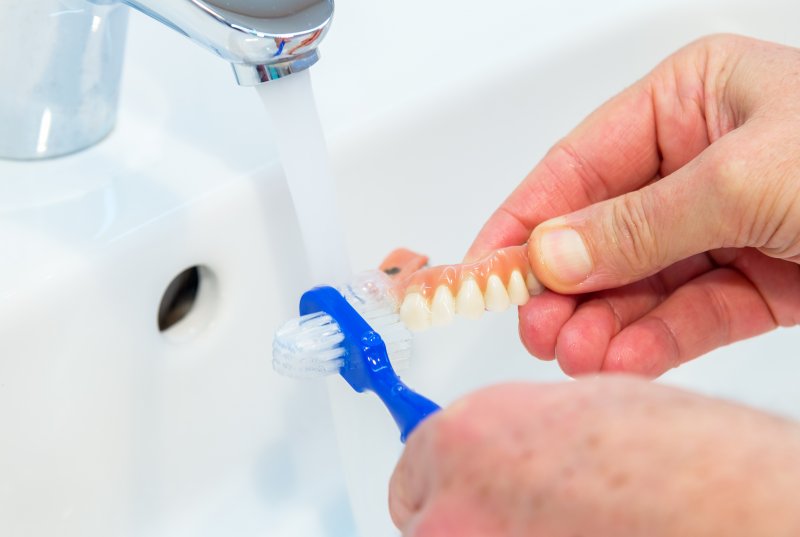 Dentures can offer many years of reliable use, making them a great affordable solution for severe tooth loss. Of course, they require consistent at-home care to keep them free of bacteria and prevent them from breaking down prematurely. With just a few simple steps on caring for dentures, you can ensure your tooth replacement lasts for as long as possible. To learn how to clean, handle, and store your denture, keep reading!
Best Tips for Cleaning Dentures
After having a meal, it's important to remove and rinse your denture. Even if this is not possible immediately after a meal, they should be rinsed and brushed at least once a day. This can be done with either a denture cleanser or mild dish soap/liquid hand soap to remove food and plaque. If you currently use a denture adhesive, use a brush to take it off all the surfaces of your mouth. Keep in mind that denture cleaner is not meant to clean the mouth.
When cleaning dentures, do not use:
Stiff-bristled toothbrushes
Harsh cleansers
Toothpastes
Whitening toothpastes
Products containing bleach (or other cleaners known for tarnishing metals)
Hot water
How to Properly Handle Dentures
Following the cleansing process, rinse the denture thoroughly as the cleaning materials used are not safe to consume. Furthermore, dentures can easily break, crack, or lose a tooth if they are dropped, even from low heights. A good way to stay proactive against this is to fill the sink with water first or place a wet towel in it as you clean your denture. This can work to provide a cushion in case of accidental drops.
Proper Storage Tips for Dentures
Your mouth needs time to get used to not wearing a denture, which is why you should never wear them while you sleep. Wearing dentures while you sleep can cause your gum tissue to become sensitive and even develop painful sores. Instead, place the denture in a glass of room temperature water (never hot) when not in use. This will prevent them from changing shape when you aren't wearing them. You can also soak them in a denture cleanser recommended by a dentist.
Another good tip is to avoid placing them in a wrapped paper towel as this could lead to them being mistakenly treated as trash and thrown away. Keep them in a high place out of reach of pets or children as well.
Dentures don't last forever, but they can last substantially longer when taking just a few steps every day. This includes visiting a dentist every six months to ensure they continue fitting properly. Schedule an appointment with one today and confirm your denture does not need replacement!
About the Author
There are few things Dr. Fana enjoys more than spending one-on-one time with his patients and expanding his education in the field to provide the best dentistry possible. Whether you're receiving a denture for the first time or have had one for years, he'll always take the time to discuss the best ways to care and maintain it for the best longevity possible. To schedule an appointment with his office, you can contact him through his website.
Comments Off

on Cleaning, Handling, and Storing Your Dentures to Ensure They Last
No Comments
No comments yet.
RSS feed for comments on this post.
Sorry, the comment form is closed at this time.