September 4, 2020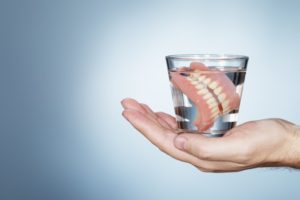 One of the best things about dentures is that they're 100% cavity-proof. However, just because they're immune to tooth decay doesn't mean they don't require any maintenance at all. Correctly caring for dentures will help them bring you years and years of beautiful, confident smiles. But what is the best way to take care of your dentures? Here are four easy things you can do to keep your new smile in great shape for years to come.
Clean Them Daily
Cleaning your dentures every day will prevent them from becoming stained or developing an unpleasant taste or smell. To clean your dentures, gently yet thoroughly scrub all of the denture's surfaces with a soft-bristled brush. You might want to invest in a brush specifically designed to clean dentures. Additionally, don't use toothpaste.Many types of toothpaste are abrasive to dentures. Lastly, it helps to regularly soak them in room-temperature water or denture cleanser.
Handle Them Carefully
Although dentures are durable, you should still handle them with care. When you take them out, only do so above a soft surface, like a sink full of water or a soft towel. You should also avoid chewing extremely hard foods, such as jawbreakers or other hard candies, that could chip or otherwise damage your dentures.
Store Them Properly
When you're not wearing your dentures, it's important to keep them in a safe place. Ideally, you should put them in cool water or a denture cleaning solution. Leaving them somewhere like the bathroom counter or your nightstand could cause them to dry out. As a result, they may lose their unique shape and not fit as well as they should.
Visit Your Dentist Regularly
Even if you have no natural teeth remaining, you should still see your dentist for routine checkups. During these appointments, your dentist will look closely at your mouth and your dentures. If need be, they will adjust (reline) your dentures to ensure they continue to fit comfortably and function well. Every five to ten years, you may need to replace your dentures entirely.
Dentures can be a great way to restore your smile after you've lost teeth, but they still require maintenance. Follow the tips described above to take good care of your prosthetic teeth and help them last as long as they can.
About the Author
At Compass Dental, Dr. Charles R. Fana has been meeting the dental care needs of the Savannah, GA community for two decades. He earned his Doctor of Dental Medicine degree from the University of Louisville and has completed the entire curriculum at the prestigious L.D. Pankey Institute. This has made him an expert in creating lifelike dental restorations, including dentures. For more information on caring for dentures, visit his website or call (912) 352-3955.
Comments Off

on 4 Simple Tips to Make Your Dentures Last
No Comments
No comments yet.
RSS feed for comments on this post.
Sorry, the comment form is closed at this time.