April 12, 2020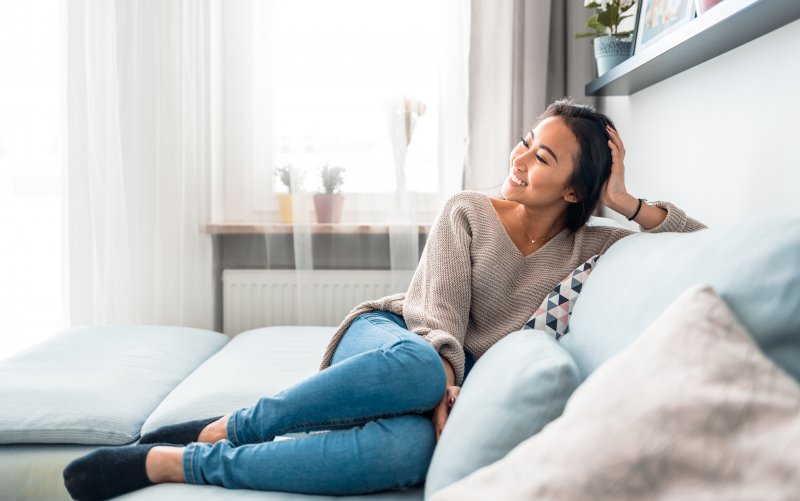 Life during the COVID-19 pandemic is stressful. When you're experiencing anxiety, it can be easy to lapse into bad habits that negatively impact your oral and overall health. Things like smoking, nail-biting, and constant snacking can be harmful for your teeth and gums, leading you to have to book an emergency dental appointment during quarantine. Instead of indulging in harmful habits, your emergency dentist in Savannah has advice on how to stay healthy during the pandemic.
How Negative Stress Habits Impact Your Oral Health
Stress can often cause you to engage in behaviors that are enjoyable in the short-term but have negative consequences when done too frequently. It feels good to pour yourself another drink or snack all night. When you do these too often, however, you can put yourself at risk for a number of oral conditions. Some of the most common forms of stress relief that can harm your oral health are:
Smoking: The negative impact of smoking on both your oral and overall health has been well-established. Smoking can cause periodontal disease, oral cancer, tooth loss, stained teeth, and bad breath. The next time you reach for a stress cigarette, consider the impact it may have on your health.
Nail-Biting: Biting your nails is a very common stress habit. Even though it can seem like a harmless enough way to channel stress, it can actually harm your tooth enamel, making you more prone to cavities and decay. Additionally, by exposing your mouth to the bacteria underneath your nails, you increase your risk of infection and periodontal disease.
Constant Snacking: Snacking becomes very easy when you're stuck at home. If you frequently opt for sugary or crunchy snacks, you put yourself at risk for cavities and build up more plaque than usual. If you aren't brushing and flossing regularly at home, you're more likely to develop gum disease.
By choosing to limit your bad habits and picking better alternatives, you can avoid the dentist's office and achieve more optimal health.
Better Stress-Management Choices
Changing your habits doesn't have to be a difficult thing. Taking small, implementable steps will help you to reduce your stress in healthier ways that will leave you feeling great.
Some small alternatives you can try are:
Exercise: The stress-reducing effects of exercise are myriad. Studies have shown that even a few minutes of daily exercise can greatly improve your mood. In the long-term, exercise can help you to lower your blood pressure and manage other systemic conditions.
Choose Healthier Snacks: Snacking doesn't have to be detrimental for your oral health. Instead of eating sugary or hard snacks, choose fibrous produce like apples, celery, and carrots. Fibrous foods help to remove plaque from your teeth while you chew.
Keep a Journal: Journaling can be a great way to unburden yourself. Taking a few minutes out of your day to write can be very cathartic.
These small adjustments can have a very positive impact on your health. You'll reduce your stress without putting your oral health at risk. Stay safe, manage your anxiety, make good choices, and you'll avoid having to make an emergency dental appointment.
About the Author
Dr. Charles Fana takes pride in keeping his patients safe and healthy. He understands that quarantine can be stressful and is here for his patients when there's an emergency. He has spent decades refining his craft and continues to constantly update his education to provide the absolute best for his patients. If you'd like to learn more about how you can take care of your oral health at home, he and his team at Compass Dental are here to help via email or over the phone at (912) 244-7025.
Comments Off

on Smiling Brightly: Maintaining Your Oral Health in Quarantine
No Comments
No comments yet.
RSS feed for comments on this post.
Sorry, the comment form is closed at this time.