February 13, 2020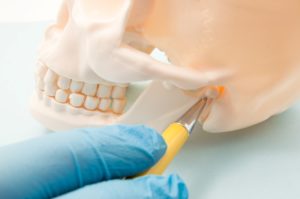 Does your jaw often click or pop when you open or close your mouth? Do you wake with a reoccurring headache? You might be experiencing a disorder of the temporomandibular joint (TMJ). It's located on either side of your face and connects your jaw to the skull. It allows you to perform simple, everyday tasks like chewing, speaking, and yawning. Unfortunately, the joint doesn't always work correctly, leading to a variety of symptoms, like facial pain or ringing in your ears. Your dentist offers the personalized solutions you need to stop your pain with TMJ therapy in Savannah. There are also several DIY things you can do at home to get the relief you need until you can see your dentist.
What is a TMJ Disorder?
There are various muscles, ligaments, discs, and bones that allow you to perform simple tasks, like yawning or speaking. There are times when there isn't a harmonious balance between all the structures, which can make it difficult to move the jaw. It can become inflamed, and its range of motion can be limited. Over time, it can lead to several symptoms, such as:
Pain or tenderness of the jaw or face.
Pain in the neck or shoulders.
Facial exhaustion.
Facial swelling.
Pain in or around the ears.
Pain when chewing.
Clicking, popping, or grating sensation when opening or closing the mouth.
Mouth locking in an opened or closed position.
Headaches.
Dizziness.
Dental pain.
If you haven't been able to find the source of your reoccurring jaw pain, headaches, or stiff neck, there might be a larger underlying issue, like a TMJ disorder. No matter the cause, your dentist in Savannah has the solutions you need to stop your pain and improve your jaw's function. Besides treatment from your dentist, you can also relieve your discomfort at home.
At-Home Treatment for TMJ Disorders
There are several steps you can take at home to treat your TMJ disorder, including:
Eat softer foods to take unnecessary pressure off the joints to decrease inflammation.
Use an over-the-counter anti-inflammatory.
Maintain good posture and don't rest your chin on your hand.
Avoid unnecessary jaw movements, like chewing gum.
Don't clench or grind your teeth.
Alternate moist heat and cold compresses on the outside of your face frequently throughout the day.
Practice stress management techniques.
Massage your neck and jaw muscles.
Practice jaw stretching exercises.
Home remedies should be combined with treatment from your dentist, which may include a custom-fit oral appliance. Although it might look like an athletic mouthguard, it repositions your lower jaw into a more comfortable resting position to take the pressure off the joints. Over time, your jaw is retrained to rest there naturally.
Stop Your TMJ Pain
You don't need to live with TMJ pain. Take your first step to an improved quality of life with the help of your dentist.
About Dr. Charles R. Fana, Jr.
In 2000, Dr. Fana opened the doors to Compass Dental to provide the community with superior dental services. Besides caring for the teeth and gums, he is trained in many areas of specialty as well, including TMJ disorders. He can evaluate the jaw to detect the underlying cause of the issue to create the appropriate treatment. If you think you have a TMJ disorder or can't stop your jaw pain at home, contact our office today to schedule a consultation.
Comments Off

on DIY Tips to Stop TMJ Disorder Pain
No Comments
No comments yet.
RSS feed for comments on this post.
Sorry, the comment form is closed at this time.