August 2, 2019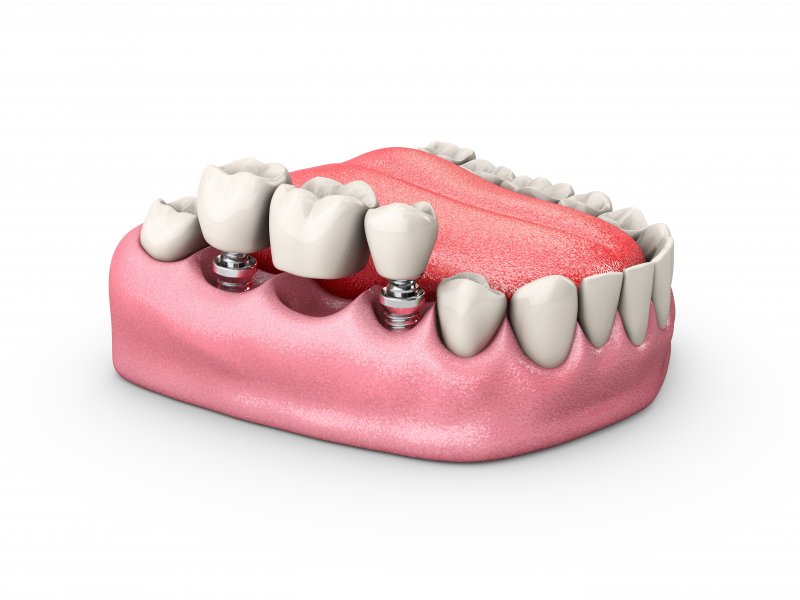 When a tooth is missing, you have two options: replace it or leave it alone. Unfortunately, many people opt for the latter simply because of the cost. Dental work isn't cheap, but what most individuals don't realize is forgoing treatment, especially a missing tooth, can lead to serious problems. Not only will your oral health suffer greatly but so will your overall well-being. If you're facing this situation and are unsure of what to do, check out this article to find out why dental implants in Savannah should be considered over traditional dentures or worse, an untreated open socket.
What Can Happen if a Missing Tooth is Left Untreated?
Whether it is extracted or not, a missing tooth should be replaced as soon as possible. Too often, people walk around with missing teeth and choose not to seek treatment because of cost, time, or even fear. When these instances happen, there are many problems that can arise, including:
Changes in facial appearance: While this might not seem important to some, even one missing tooth can cause changes to occur in your appearance. Patients missing an entire arch of teeth can experience full facial collapse or sagging.
Increased risk for gum disease: If bacteria is allowed to grow and spread below the gum line, it can begin to weaken the bone, and inflammation can enter the bloodstream, leading to cardiovascular disease, neurological disorders, and other health-related conditions.
Weakened jawbone:When a tooth root is no longer stimulating the jawbone, it will weaken over time. Because it serves as the foundation for your teeth, it can cause them to loosen or even fall out.
Misaligned teeth: If one tooth is missing, your nearby natural teeth will begin to shift to try and move into its place. This can move your teeth out of alignment and lead to problems with your bite and result in a need for orthodontic treatment.
Why Are Dental Implants Better Than Traditional Dentures?
Dental implants are a safer, superior form of restorative treatment. Why? Because they truly restore your teeth from the roots up. Made of titanium, implant posts mimic your tooth root and surgically placed into your jawbone. This helps to keep the bone stimulated, eliminating the possibility of it weakening over time.
Once you've had time to heal at home, and your implants have properly fused to your bone and surrounding tissues, your dentist in Savannah will place your custom prosthetic. Individuals needing a single tooth implant, a dental implant bridge, or an implant-retained denture can benefit from this type of procedure.
You might be asking, "Implants sound great, but why not just go with traditional dentures?" Here's why:
Stability: Traditional dentures sit on top of the gum line, whereas, dental implants are surgically placed in the jawbone.
Full restoration: Yes, dentures make it possible to restore the look of a smile, but only dental implants can fully restore your entire tooth.
Longevity: Regular dentures require relining, readjusting, and replacing over time. Dental implants are designed to last decades if not a lifetime.
Maintenance: If you want to spend less time maintaining your new smile, dental implants are the way to go. Traditional dentures require that you remove them, carefully brush them (careful not to drop them or they'll break), and soak them overnight. Implants only require you to continue your regular oral hygiene routine of brushing, flossing, and rinsing.
Now that you know the valuable benefits of not only replacing a missing tooth but choosing dental implants over traditional dentures, you can feel confident moving forward with restoring your smile. Don't wait any longer to see a complete smile. Talk to your dentist in Savannah today about your dental implant options.
About the Author
Dr. Charles Fana opened Compass Dental in 2000 to serve the patients of Savannah and surrounding communities. His passion for dentistry started at a young age, receiving braces during his senior year of high school. Going on to serve as a dental assistant in college, he earned his undergraduate degree from Florida State University and his dental degree from the University of Louisville. In the years after graduation, he spent time at the L.D. Pankey Institute, completing the entire curriculum to become an expert in porcelain restorations, dental implants, and TMJ Therapy. To find out more about Dr. Fana, visit our website or call (912) 352-3955.
Comments Off

on Discover the Health and Safety Benefits of Receiving Dental Implants
No Comments
No comments yet.
RSS feed for comments on this post.
Sorry, the comment form is closed at this time.