June 12, 2019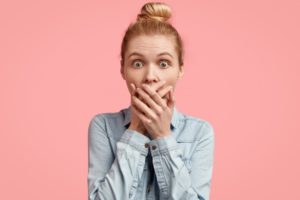 Tooth enamel is the hardest substance in the human body — but that does not make it invincible. In fact, it is brittle enough that it can easily break if it faces a hard impact. To keep your smile intact, it is important that you take precautions to avoid accidents that might chip your teeth. An emergency dentist in Savannah is here to give you some guidance on how to prevent chipped teeth and what you should do if you accidentally damage one of your precious pearly whites.
Causes of Chipped Teeth
Some of the most common causes of chipped teeth include:
Biting down on hard substances. Ice and hard candy are often the culprits behind chipped teeth. You are also putting yourself at risk if you use your teeth as a tool to open packages.
Falls or car accidents. Try your best to be aware of your surroundings and avoid hazards that might damage your teeth.
Sports incidents. Do you love to get your game on? No matter what sport you are playing, your risk of suffering dental damage will go down dramatically if you wear a custom mouthguard.
Bruxism (habitual teeth grinding). Many people grind their teeth at night. A nightguard from your dentist can help to prevent the damage that results from bruxism.
Keep Your Teeth Strong to Prevent Chips
As mentioned above, taking a few simply precautions in your daily life can do a lot to minimize your risk of chipping a tooth. You can further protect your smile by doing all you can to strengthen your tooth enamel. Strong, thick enamel is more likely to be able to endure the rigors of everyday life. Here are some tips to help you keep your enamel as healthy as possible:
Brush your teeth twice a day with a fluoride-containing toothpaste. Fluoride is a mineral that helps to fortify and restore tooth enamel.
Watch out for acids. Foods and beverages with a lot of acid in them — such as soda and citrus fruits — can weaken your enamel. Try to limit your consumption of such substances. Another source of acid is acid reflux; if you have this condition, consult with your doctor to find an appropriate treatment.
Say no to sugar. Sugar interacts with bacteria in your mouth, leading to acid production. Do your best to minimize the amount of sugar in your diet.
Visit your dentist. Your dentist and dental hygienist can give you personalized tips and product recommendations that will help you safeguard your tooth enamel.
What if You Chip a Tooth?
Despite your best efforts to protect your teeth, you may still end up chipping one of them. When that occurs, visit your emergency dentist right away. In some cases, a chipped tooth is a purely cosmetic issue. In other cases, however, the break may be bad enough that it leads to a severe toothache in Savannah and a dental infection. The sooner you have a professional evaluate the damage to your tooth, the sooner you can get back on the road to dental health.
About the Author
Dr. Charles Fana is a general dentist in Savannah who has been serving our community since 1997. He is often able to see emergency patients on the same day they call in. If you ever need urgent dental treatment, or you have questions about how to care for your teeth and gums, contact our office at 912-352-3955.
Comments Off

on Emergency Dentist Discusses Common Causes of Chipped Teeth
No Comments
No comments yet.
RSS feed for comments on this post.
Sorry, the comment form is closed at this time.